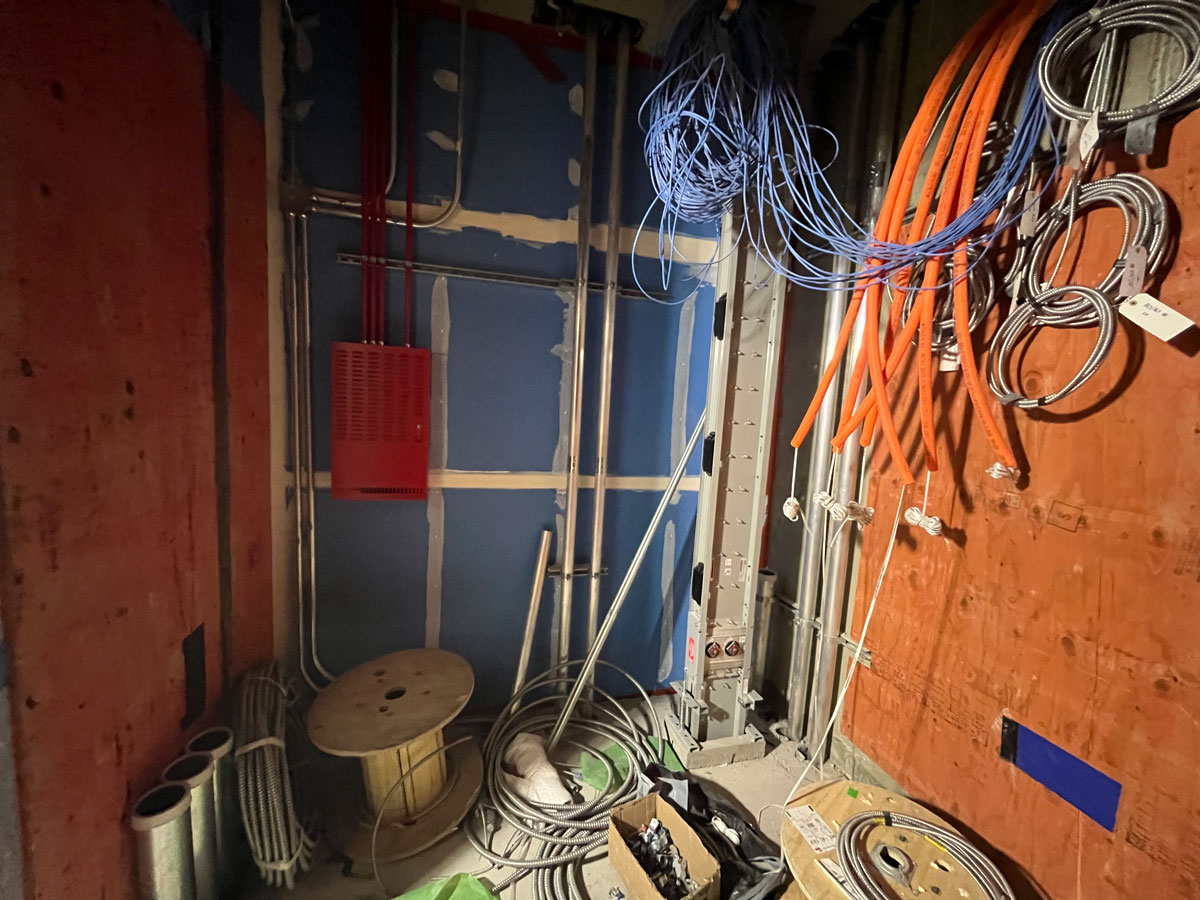 Low Voltage Systems: What They Are & How We Design Them
In today's competitive market, the pressure of getting a building online is immense. Innovative owners, architects and general contractors go beyond the traditional mechanical, engineering and plumbing considerations, to include a fourth equally important vertical: technology.
In short, low voltage systems are the scaffolding for all technology initiatives within a building. Owners and developers can't afford to get this wrong – the long-term health of the building depends on it.
WHAT ARE LOW VOLTAGE SYSTEMS?
Low voltage systems refer to technology infrastructure –– think security, telecommunications, in-home sensors, to name a few–– supported by low voltage cabling. Low voltage cabling refers to cables and wiring that carry electricity below 50 volts.
WHAT IS LOW VOLTAGE DESIGN?
Low voltage design is the process of creating a comprehensive plan for integrating and commissioning low voltage systems in a building. This includes producing and reviewing a building's architectural drawings to create low-voltage layers to realize the owner's operational intent.

LOW VOLTAGE DESIGN – WHO'S RESPONSIBLE FOR IT?
Electrical engineering firms are high voltage experts, and although some have augmented their scope to include in-house support for low voltage design, it's not in their main purview. Because of that, there are critically important nuances that are easily missed – the one we see most often is telecommunication strategy.
WhiteSpace often executes peer reviews for property owners whose strategy around internet models have evolved from a traditional retail approach to Managed WiFi. In these cases, we scrutinize and redline the electrical designs documents, originally developed by the electrical engineers, to accommodate the new Managed WiFi infrastructure.
When it comes to integrating low voltage systems, there's a lot to consider. We recommend working with a technology firm whose primary focus is designing a limber low voltage strategy that supports the owner's operational intent now and in the future.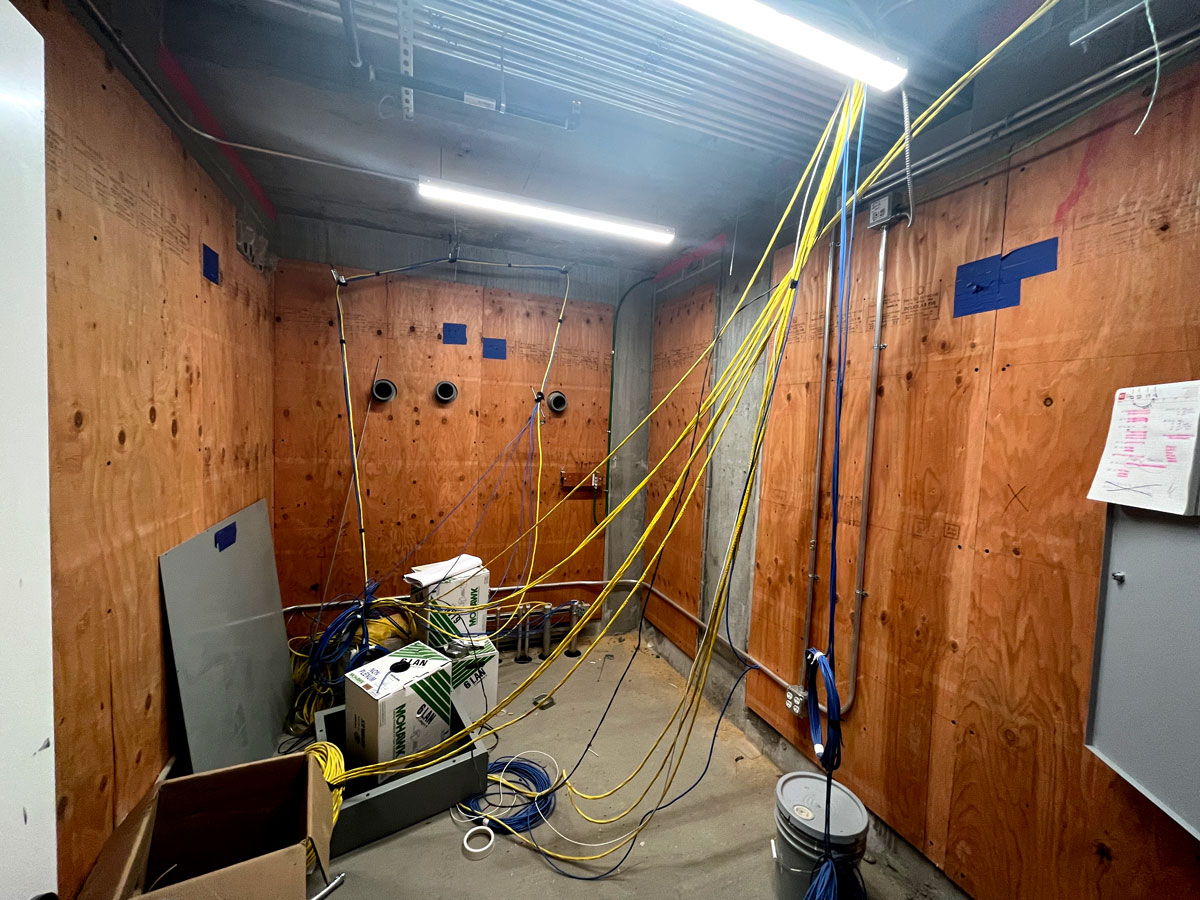 OUR APPROACH TO LOW VOLTAGE DESIGN
In collaboration with the project team, WhiteSpace produces and/or reviews low-voltage design documents. As the technology advisor on new developments, our process begins by showing all of the low voltage design details over top of the architectural backgrounds in the AutoCAD drawings. These documents– redoubled by the owner's vision, existing partnerships, and operational intent for the property – inform which low-voltage systems we recommend.
The process starts with vision.
What is the operational intent for the property?
What is the product type?
The answer to these questions directs the low voltage design effort. For example, a low voltage design for a high-end high-rise in a competitive urban setting could look drastically different from a garden-style property in the suburbs.
And, we get granular:
What is the access control strategy?
What is the expected visitor experience?
Are they looking into Managed WiFi or sticking with traditional bulk or retail?
Are you trying to achieve a frictionless resident experience (and do you know what that means)?
Are you partial to a certain type of unit lock?
Is there a developed amenity program vision?
Do you want a self-guided tour experience for prospects?
Is there an appetite for smart apartments or IOT?
Have you ever worked with an IoT aggregator?
The answers to these questions (and more) provide a clear understanding of how the building should work and the desired resident experience for the property as it relates to technology. Without this information, we are designing in a vacuum.
To prioritize the low voltage systems against deadlines and budgets, the WhiteSpace approach follows this logical order:
Voice/Data/Video Strategy
Telecommunication Infrastructure & Cabling
Electronic Security (access control, CCTV)
A/V (common area programming for TVs, music, etc.)
Smart Apartment IoT
WhiteSpace then delivers a low voltage design package with project specifications, including infrastructure highways of wiring, conduits and pathways, long before any cable is purchased.
And because we are owner's reps and completely vendor agnostic, our mission is to ensure all recommendations align with the owner's overall goal and objectives. This can't be overstated.
Although the majority of our low voltage design clients are new developments, we also work on Brownfields during an overbuild or CapEx renovation – when owners want to add technology that requires revisions and updates to existing cabling and wiring (for example, replacing a dying access control system, or adding a technology-forward visitor entry system).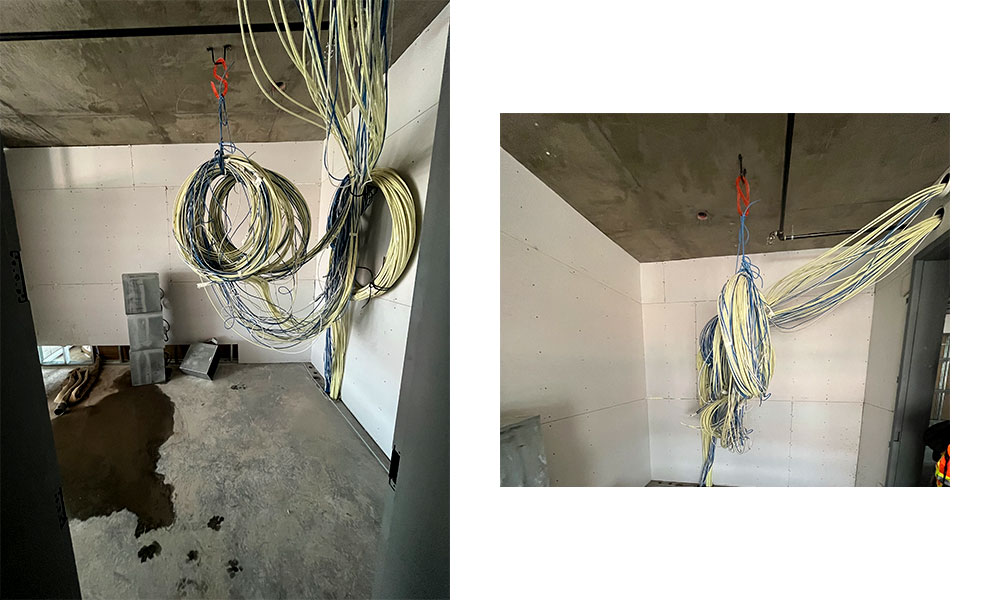 3 COMMON LOW VOLTAGE MISTAKES & HOW OWNERS CAN AVOID THEM
Producing low voltage design documents is only half the battle. The rubber meets the road during construction administration and commissioning. In our experience as vendor-agnostic owner's reps, we've identified three common unapproved value engineering methods that need the owner's attention:
Cutting Corners: Any departure from the original design drawings and project requirements have major implications for the success of the system at large. Cutting corners includes using a different cable or pulling wires back to a different location than what's specified in the original design drawings. This can be done to save on product or labor costs.
Vendors Don't Understand Overall Mission: Let's say a certain access control system was selected for a property because it uses a specific card reader that integrates with a specific IoT aggregator layer. And, instead of installing the card reader in the original specifications, the GC purchases and installs what they believe to be an equivalent card reader only to find on Day 1 the system is incompatible and does not work. It's a very honest, and very costly mistake.
Relying on Product-Centered Design Builds: When a vendor-subjective company offers to design a low voltage system, ahead of their bid to build it, they do so around their product's inclusion. This is to say, they will design your system to accommodate their product. These Design Builds used to work when building technologies were simple. However, with much to consider in today's market, a Design Build can undermine the owners wholistic needs. Now that there are many low voltage systems to consider and the integration of these can be complex, the design should be focused on achieving the owner's vision. Furthermore, ensuring the General Contractor owns all of the project scope coordination is critical to success. Design Build relationships tend to exclude GCs and for that reason can be very problematic.
Following the original design documents and specifications is enormously valuable in terms of ensuring the property's desired outcome.
On behalf of our clients, WhiteSpace avoids these mistakes by:
Clearly specifying "no equivalent" or "owner-approved equivalent" on design documents
Validating CA process review and submittals
Participating in Site Walks and Commissioning – reviewing all wiring and technology infrastructure before the walls and ceilings are closed
WhiteSpace goes a step further. No technology stone is left unturned during the commissioning process. For example, WhiteSpace:
Reviews the field-of-view for all installed cameras to make sure cameras are properly positioned and views are unobstructed
Ensure cameras are recording and settings comply with project specifications
Cross checks low voltage systems, i.e. confirming the schedule for the doors are set according to the access control strategy
As owner's reps, we are committed to setting up all systems and settings to assure complete alignment with the owner's overall vision so that it is operational on Day 1…and Day 2. If you're a forward-thinking owner, developer or architect, contact our team to learn how our low voltage design services could enhance your resident experience.
Recent blogs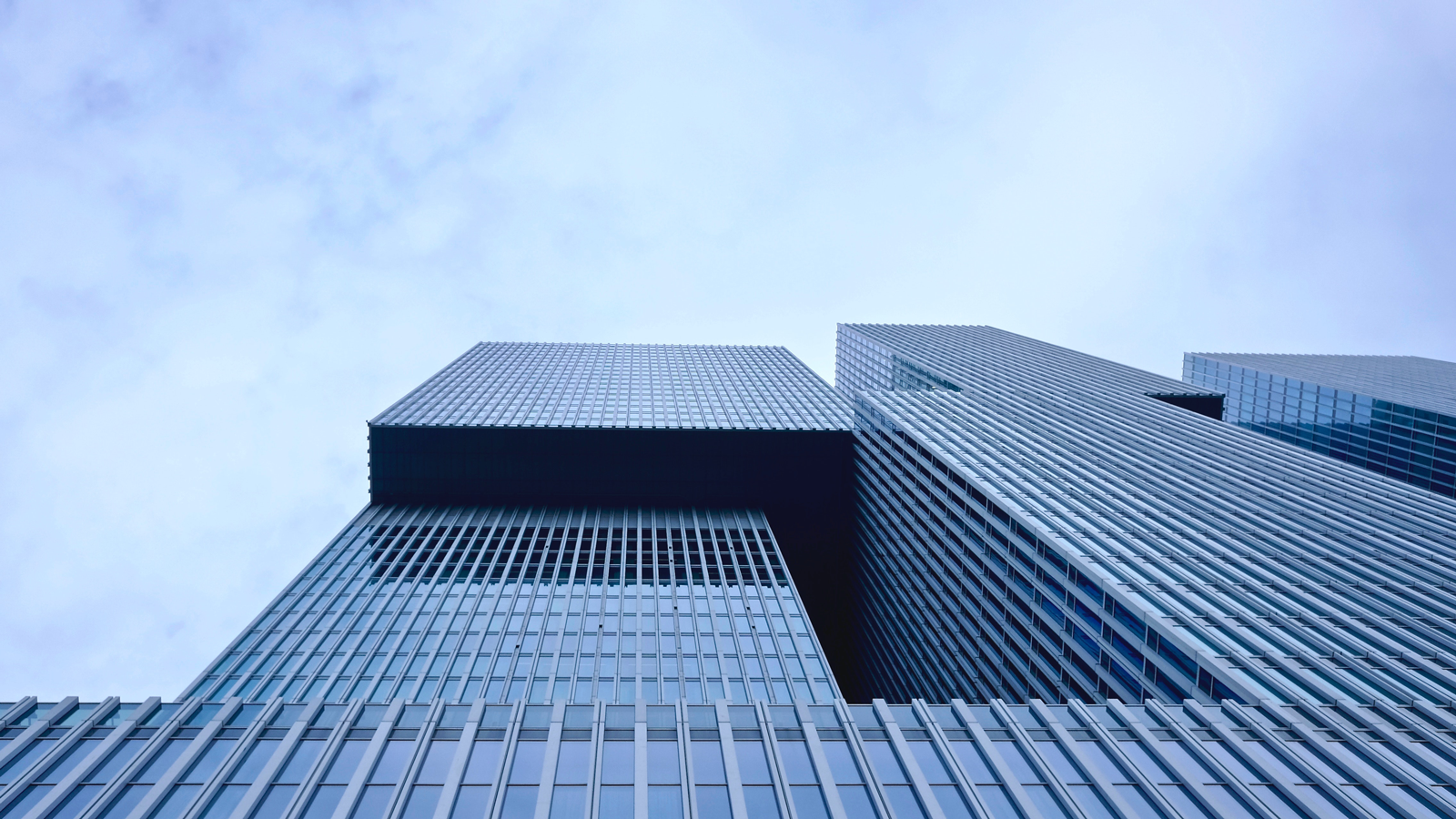 WhiteSpace is excited to announce an addition to the team: our new Project Manager, Brandon Crawford-Braun. Brandon brings over a decade of experience working in the telecommunications industry to his role at WhiteSpace. He spent seven years as an Inside Plant Technician learning the intricacies of fiber networks, then four […]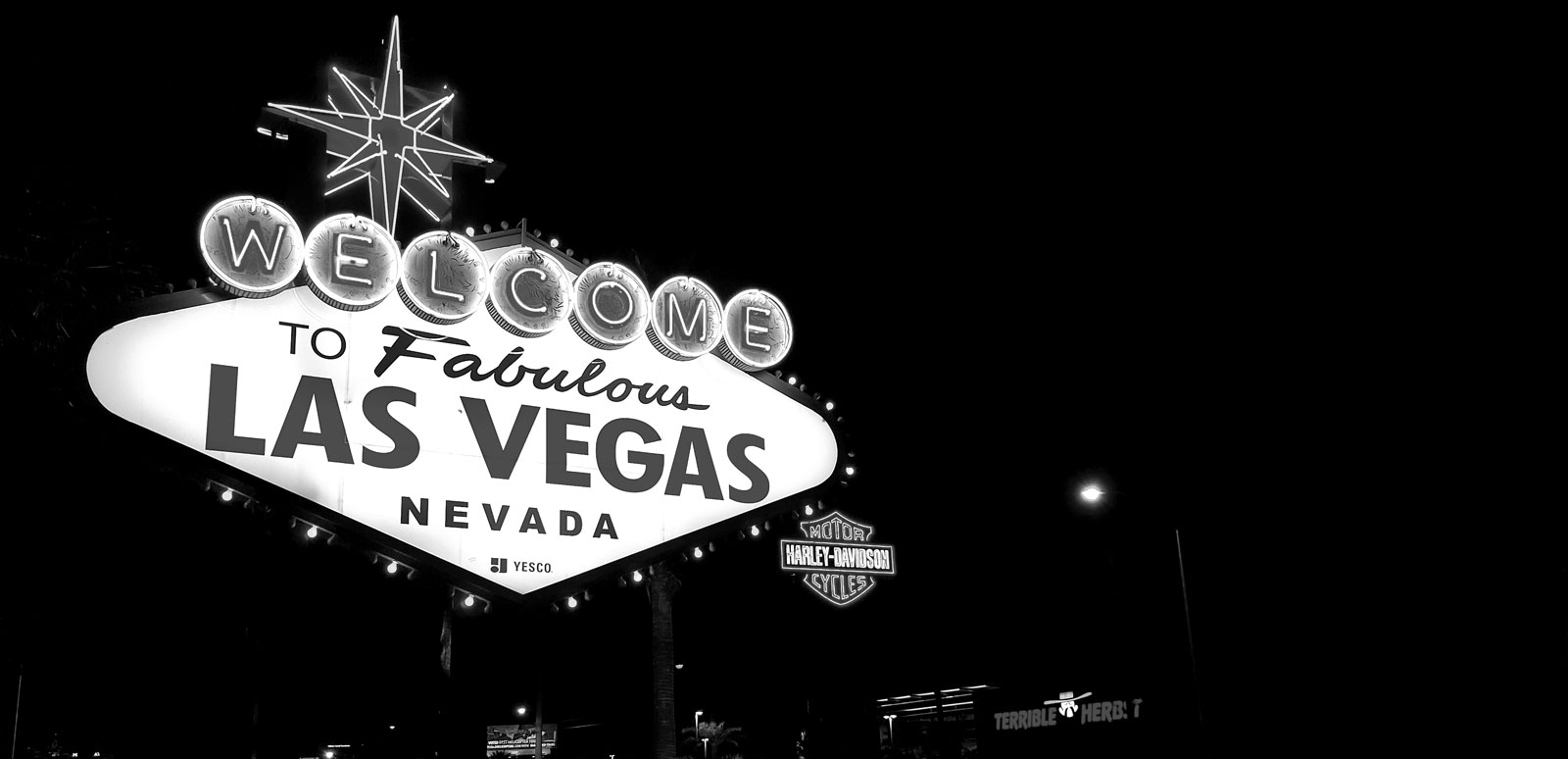 Vegas for Halloween? Count us in! We just booked travel to Las Vegas to attend the 2023 NMHC OPTECH Conference & Exposition on November 1-3; but to be there for the start of the conference, our Midwest team will fly into Vegas on October 31st, All Hallows' Eve. And after […]