Novus Innovation Corridor
technology MASTER PLANNING
Building a connected city
One of the nation's most progressive, urban, mixed-use developments — adjacent to the Arizona State University campus in Tempe, Arizona — Novus Innovation Corridor provides the foundation for bold, inspired visionaries. Located on Tempe Town Lake, the 2nd-most-visited public attraction in Arizona, Novus will house more than 11 million square feet of sustainable, world-class offices, residences, hotels, retail stores and restaurants throughout 355 acres.
A TECHNOLOGY SANDBOX WHERE EVERYONE WANTS TO PLAY.
Arizona State University (the landowner) has partnered with Catellus Development Corporation, to develop 355 acres of adjoining campus into a progressive, urban, mixed-use district. Once complete, Novus Innovation Corridor will house more than 11 million square feet of world-class offices, residences, hotels, retail stores, and restaurants, enabling companies to achieve synergies with a major university, including access to world-class research and a highly educated and skilled workforce.
We think of this as "a giant sandbox where everyone wants to play." ​
WhiteSpace, the technology master plan consultant for Novus, is charged with designing a fully connected smart city that's poised for the future.
355 acres
Of total land under development
34K+ Jobs
Upon completion
$2B in Wages
Generated each year
11M square feet
Of mixed-use space
5.7K residents
Upon completion
$4.6B economic output
Generated each year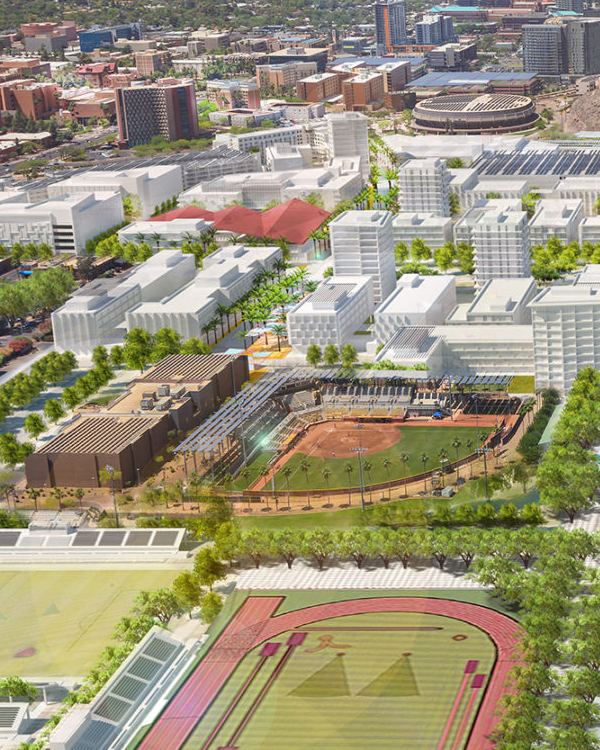 LIVE
Novus will ultimately introduce about 3,600 new residences to the area in the form of mixed-use residential communities. With connectivity playing a huge part in resident happiness, WhiteSpace will ensure that all technology not only meets today's standards, but is also well-positioned to adapt to future trends.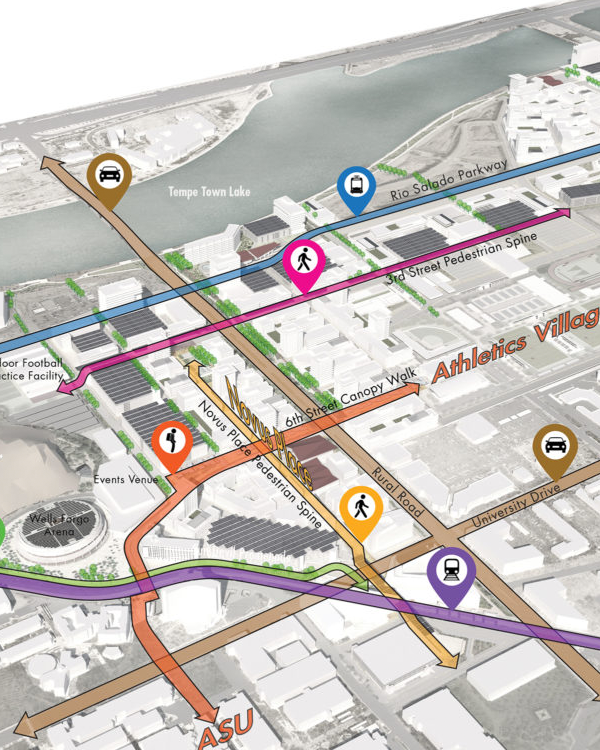 WORK
There will be 4 million square feet of space dedicated to corporate space in the Novus Innovation Corridor, with a variety of office types (high-rise, mid-rise, multi-tenant, etc.) able to accommodate any type of business. The district's location next to the airport and the university makes it a prime location within Tempe, a city which has already attracted 15% of Arizona's high-tech companies.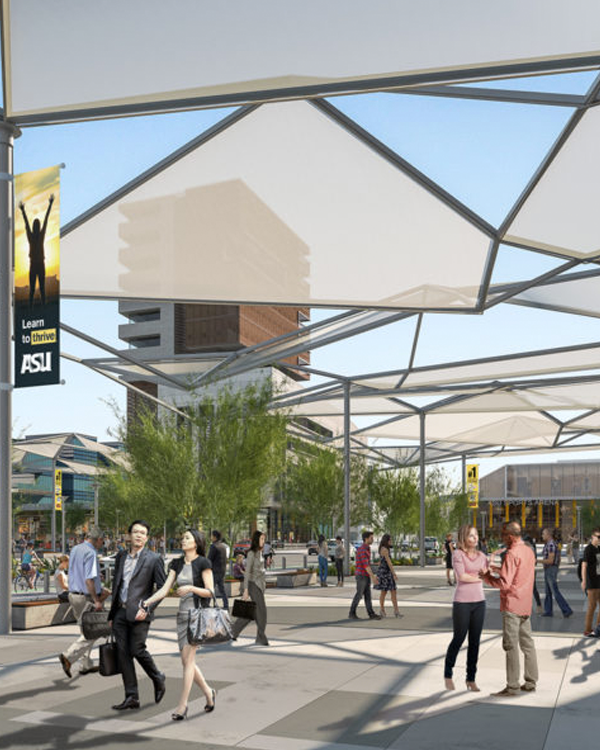 PLAY
Novus will feature over 300,000 square feet of retail and restaurant space, and the entire corridor will be fully walkable. The district is also near one of Arizona's most-visited attractions (Tempe Town Lake) as well as ASU's Sun Devil Stadium and other athletic venues, while Tempe recently came in at #3 on Bloomberg Businessweek's list of "Most Affordable Fun Cities."
Phase 1
Marina Heights Development
Started in 2014 and completed in 2017, several office buildings were constructed in Marina Heights, which is adjacent to the rest of Novus. The area includes a 20-acre campus housing the regional hub for State Farm.
Phase 2
Sun Devil Stadium Renovation
Recently completed in 2019, a $375 million renovation of Arizona State University's football stadium turned it into a year-round facility for the community.
Phase 3
University & Rural Neighborhood Development
Started in 2018, this 19-acre piece of land will house office buildings, multifamily residences, retail spaces, hotels, a parking garage, and more. The 777 Tower, a 6-story multi-tenant office building, became the first Phase 3 building to be completed in Summer 2020.
A FULLY WALKABLE COMMUNITY
A network of bike paths, pedestrian promenades, shaded sidewalks and urban parks will make it easy to get around on foot.
A CONNECTED CITY
WhiteSpace will work with network providers to design and implement a communication corridor for the district.
ACCESS TO ARIZONA STATE UNIVERSITY
Located adjacent to the campus, Novus provides businesses with collaborative opportunities and the ability to tap into new sources of talent through Arizona State University, which has been ranked as the "most innovative" university in the nation for six years running by U.S. News and World Report.
SPORTS & ENTERTAINMENT DESTINATION
A recently completed 5-year renovation of Sun Devil Stadium was the first step in turning the ASU athletics facilities around Novus into a global-caliber destination for sports and entertainment. A new multi-purpose arena is among the projects still to come.
ARIZONA'S NEW PREMIER CORPORATE SITE
The district has 4 million square feet of space dedicated to high-rise, mid-rise and creative offices.
SMART GARAGES
The district's first parking garage, which includes EV chargers and bike lockers, is seeking Parksmart certification for high-performing, sustainable garages.
RENOVATED ATHLETIC FACILITIES
Arizona State's nearby athletic venues will be renovated with best-in-class features and designed for shared community use.
SUSTAINABILITY
Powered by smart city elements, sustainability is a core tenet of the Novus Innovation Corridor. One of the Phase 3 buildings will even house the Julie Ann Wrigley Global Institute of Sustainability.
"SMART" SOURCES OF REVENUE
WhiteSpace will identify and implement revenue-generating technology, such as smart parking and smart poles, that also secures and connects the city.
ZERO-ENERGY SOLUTIONS
The new Interdisciplinary Science and Technology Building will have a goal of reaching triple net-zero performance thanks to the regenerative and bioclimatic technologies incorporated into it.
FIND OUT WHAT YOU DON'T KNOW YOU DONT KNOW ABOUT TECHNOLOGY AND YOUR CRE PROJECT.